Lag and how to find it.

If you are suffering from lag on the server, it is important to find out if you can where is causing you lag.
To test if it is your connection to the server we recommend that you use a program called WinMTR.
You can download WinMTR here as either winmtr.zip 127KB or WinMTR.exe 256KB

You can run WinMTR from any where on your system.
Once run it opens a window as shown below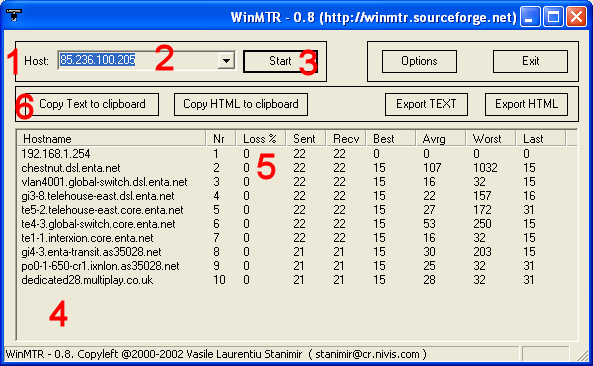 1. The host is where you enter you the target for your trace as either a IP address or web address.
2. Enter the IP address of our game server 85.236.100.205
3. Push the start button to start the trace.
4. balin.multiplay.co.uk is our game server. (The name of the server has changed)
5. Is the collum which shows the % of packet loss and where this is happening.

You should run the trace for at least 15 minutes, you can run the trace while you are in game.

6. Push Copy to clipboard to copy the results of the trace in to your clipboard.

Once you are ready run your email program and send the result of the trace to us and we will forward it on to our host for analysis.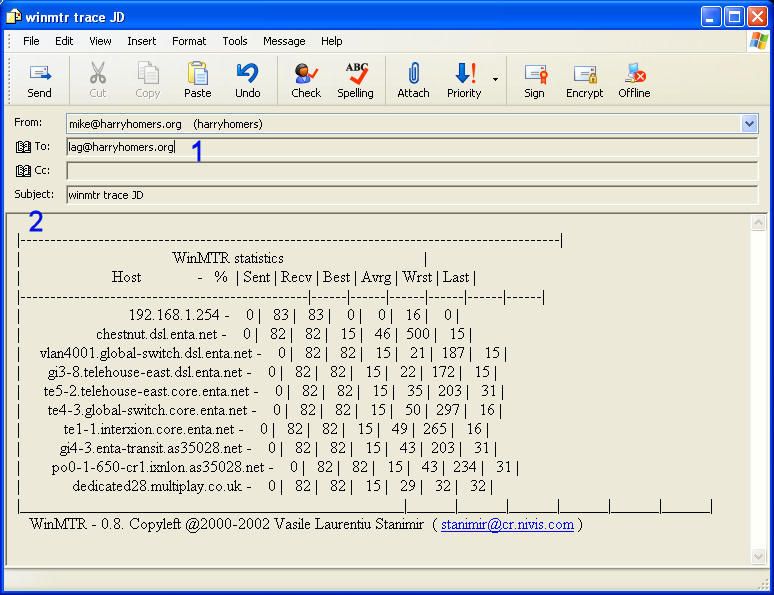 1. The email address to send your results to.
2. Paste the results from WinMTR in to your email by either pushing the control + v key's or right click and paste.

If you can add the time that the trace was done and the IP address or host name you where using at the time, if known ? it would be helpful
You can find it at Sheilds Up web page, you can see it in the lower part of the page in blue just under "The text below might uniquely identify you on the Internet"
Once we received your trace we will send it off to our hosts for analysis and we will forward the results to you as soon as we receive them back.