How To Join A TeamSpeak 3 Server.

TeamSpeak 3 is modern communication program that allows you to talk to others while playing a game.
Of course you do not need to be playing to use it, you can use it as way of just chatting to friends as you can have more than two people on at once, making it ideal for a group to get together.

Our TeamSpeak 3 server is avaialble public.
The server is provided for the use of all players on the game servers.
All the required details to join the server can be found on the forum.
Unlike earlier versions of TeamSpeak you are not required to register your nickname with the server, this is due to the way the permission system works and all this will be handled by the server admin's.

The first thing you need is a microphone or a headset with a microphone attached.
You hear the others speaking over your normal speakers or your headset if your using one.
When you talk or use the push to talk button it cuts down the output from your speakers so others can hear what you are saying.
Beware though? That while you are speaking you can hear anyone else who is speaking at the same time but their volume is reduced so that if your using speakers others cannot hear what they are saying over your microphone.
Getting this balence right can be a little tricky.

The software you require for this is TeamSpeak 3, the latest versiom can be downloaded from teamspeak.com, it is available for Windows x86 and x64, Linux x86 and x64 and Mac OS X, iOS (iPhone/iPod/iPad) , Andriod and FreeBSD.

TeamSpeak comes with with an overlay program called over wolf but this does not work with ET, so do not install it unless you need it for other games.
You can download the latest version of TeamSpeak overlay that does work from here.
You can also visit the officail web site for TeamSpeak overlay.

Once you have downloaded and installed the correct version for you system, you need to make sure that your firewall knows about it and you are aware that your firewall needs to let TeamSpeak 3 access the internet and that you also have a microphone ready plugged in and set to be used correctly.

To make things easier to know who talking on TeamSpeak, there is an extra setting in the program that allows you to an overlay in game.
This can be accessed via the setings / plugins menu.

Full instructions for configuring TeamSpeak 3 can be found below.
How to join our TeamSpeak 3 server can be found here.



To configure TeamSpeak 3.

To set up TeamSpeak 3 to be able to access our server follow the instructions below, inserting the correct IP address / host name and port number.
You can use these instructions for joining any TeamSpeak 3 server substituting your details for the server you require.

When you first run TeamSpeak 3 you will after a few seconds be presented with the welcome screen.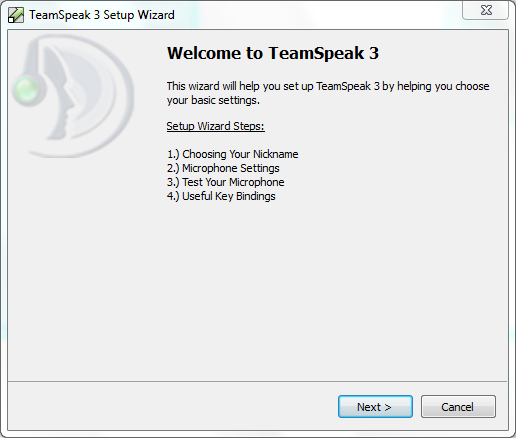 Click next to continue

Enter the nickname you want to use TeamSpeak and click next to continue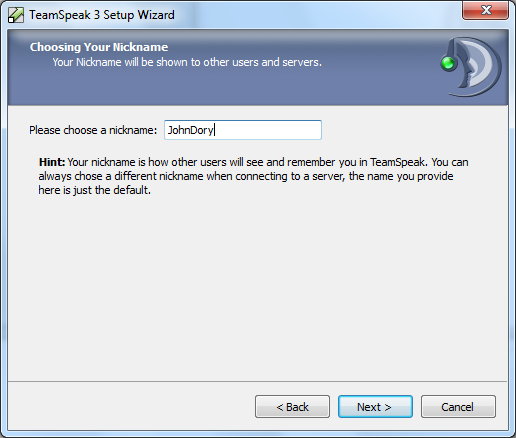 This is where you have to choose which type of activation you require for your microphone.
You have two choices, voice activated or push to talk.
The recommended option is push to talk.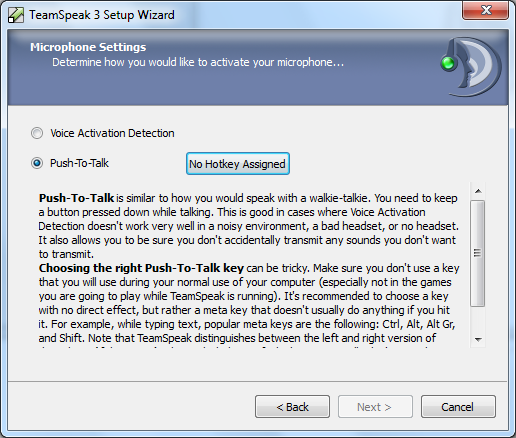 If you select push to talk you will be required to select a key / button to push to assign to push to talk
We recommend a mouse button if you have one available.
in our example below we have select the rear side mouse button.
After selecting your key / button push next.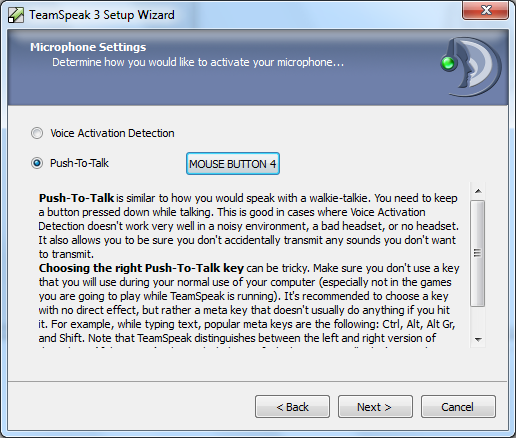 This is where you test your microphone is working correctly for TeamSpeak.
After completing the test, push next.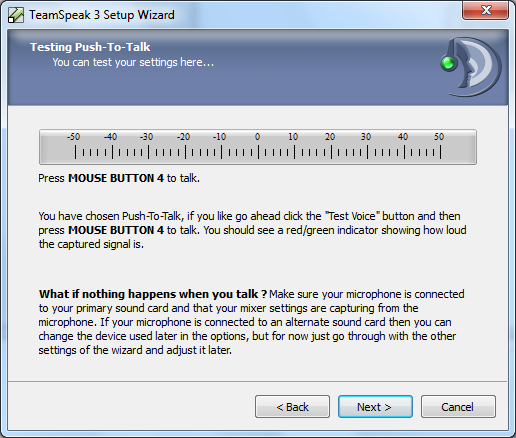 This is where you can assign a mute speakers key / button if you require one.
Once you have assigned one or if you do not wish to assign one push next.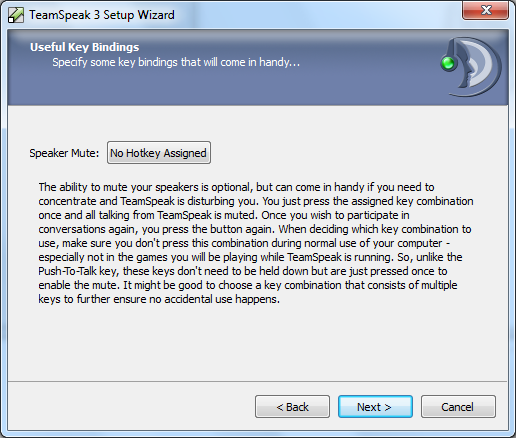 You have now correctly installed and ran TeamSpeak 3 ready for use.
Push finish to continue.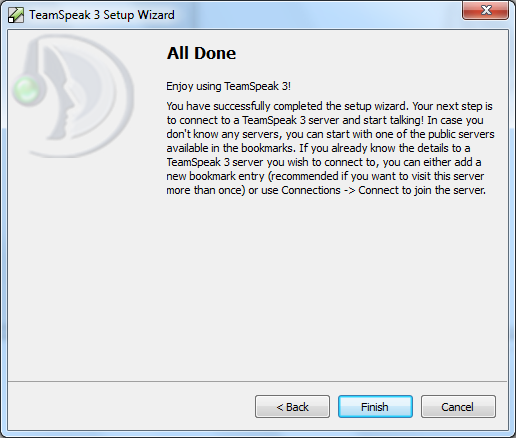 To join our TeamSpeak 3 server.


To be join our TeamSpeak 3 server with TeamSpeak Overlay running you must first run Teamspeak 3 then select the overlay plugin and then you can join our server.
Once this is done if you require it go to the menu Connections / Connect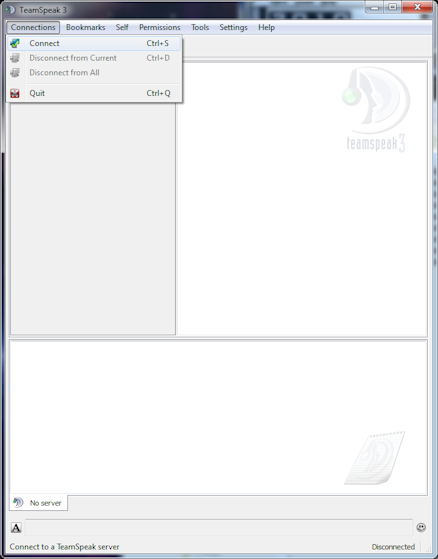 Enter the Correct IP address, Port number, Nickname and server password if required and push connect.
The port number is missing here, clan members can find the port on the forum or the email they received.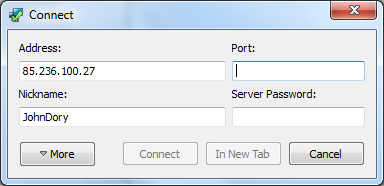 You should now have joined our TeamSpeak 3 server.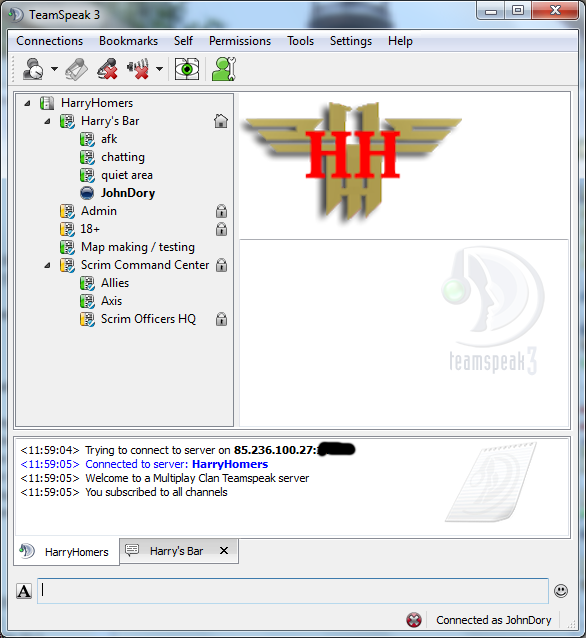 If you are successful in joining the server you can join the game server of your choice.

When you have had enough of being on TeamSpeak, you can leave by going to the menu Connections / Disconnect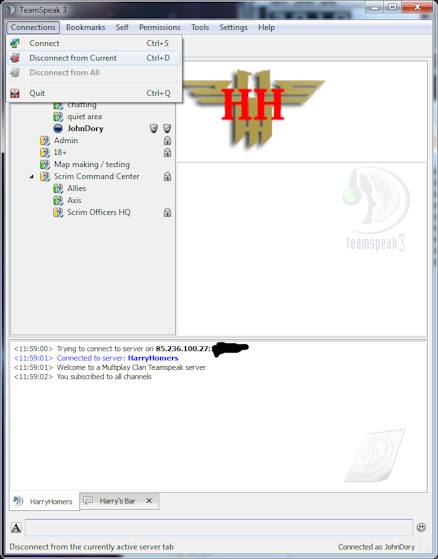 You can now quit TeamSpeak 3.



A guide to configuring OverLay in TeamSpeak 3.


To make use of the built in overlay you need to run TeamSpeak 3.
Using the menu at the top, go to Settings / Plugins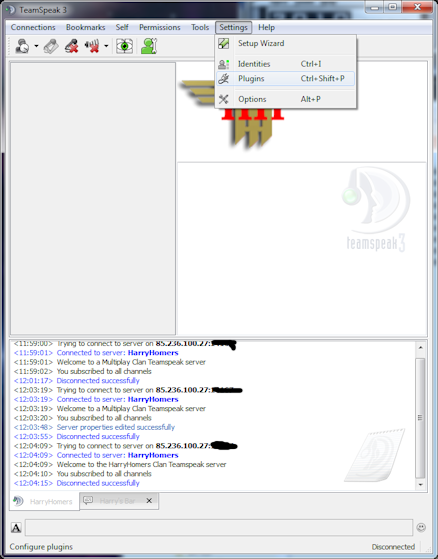 Once in the Plugins menu, you should tick the DirectX overlay plugin plugin and then close and return to the main TeamSpeak 3 and use it as normal.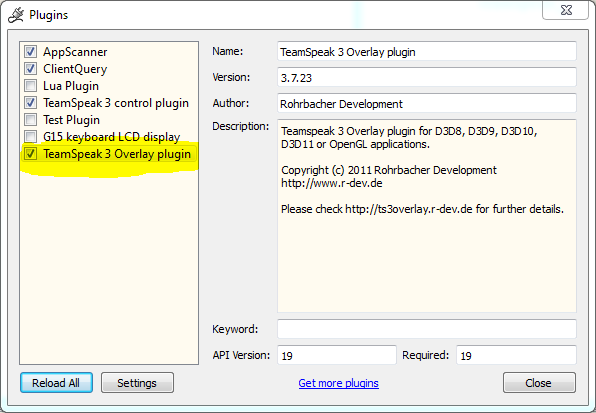 The first time you select the overlay plugin you will get a warning window open on you, do not worry you can just close this and carry on.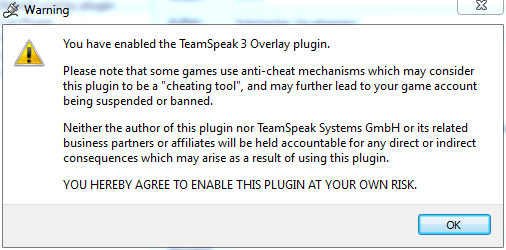 The only problem we have found with using this plugin is that when it it running, if you run XFire at the same time your ET can lock up and become unsable.
This plugin works fine without XFire running so if you need the plugin until you are used to sound and can recognise everyone's voice's on TS3 it is very handy.
Once you have finished using the plugin you can simply turn it off by unticking the DirectX overlay plugin in the settings menu.